The "Fast & Easy" Way To Create The Business You Want…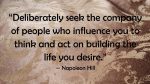 Do you often feel like you're spinning your wheels, working all the time and not still not getting the clients or income you want? Do you feel like you keep trying the latest and greatest from today's hot marketing guru even though you're not seeing the results they promise?
The best thing you can do to finally get traction in your business, have the clients and income you want as well as the lifestyle that you dream of is to invest in yourself & your business.
The truth is "fast & easy" isn't necessarily the way to build a healthy, thriving business. It is totally possible to have a business rocking it right out of the gate but there's always a learning curve as you grow and it takes consistency, commitment and courage...to keep going, take risks and dream bigger and bigger. And it's nearly impossible to do alone.
As humans, qualities like consistency and commitment and courage are more often developed through practice than happening automatically. We are inclined to inertia. It's much easier to stay stuck in our rut where it's at least familiar than it is to step up, play bigger and bring our vision, mission & message out to the world. But dreaming bigger is exactly what we need to do. The world is changing. The global economy is shifting and we will either evolve and change with it or not. We all know what happens when a species doesn't evolve...
So now more than ever is time for your Big Idea. It's time for every voice to be brave and be heard. It doesn't have to be perfect. You can expand, discover and learn as you go --->>>you know, evolve. If you want to do it the "fast and easy" way I urge you not to go it alone.​
The most powerful transformation happens for purpose-driven entrepreneurs -- especially the "one-man-show" model -- through mentorship, collaboration & support. Specifically, having mentors and a community of peers that see you in your highest self, that help you expand your ownership of your expertise and how you value it as well as helping you continue to improve your mindset.
It can be easy to get so hyper focused on scrambling for clients that investing in education, support & mentorship around growing your business feels like a luxury you can't afford. Let me tell you that's putting the cart before the horse. if you put all your "extra" energy [energy=time+money] into "everything-but-the-kitchen-sink" scattershot marketing you're highly susceptible to burn out and you will waste tons more energy as you run that hamster-wheel hustle 24/7 without the benefit of people who have gone before you and can guide you, teach you and save you from making their mistakes.
Having business mentoring and community of successful people who have what you want and are holding your vision for you is like "real food" for your business...it's as important as continued education and furthering your professional knowledge. Having that kind of guidance and a community of peers who see you in your highest light nourishes your business.
Getting support, education & community around building your business, having "believing mirrors" you can rely on to tell you the truth, help you expand your mindset & think BIG is so powerful in helping you to achieve momentum which is what keeps you going, helps you build a thriving, sustainable business and ultimately moves you toward prosperity & fulfillment.
You remember what you're working so hard for...Right?
So that you can share your gifts with the world freely and make a huge difference in your client's lives and even the world!​
I urge you wholeheartedly to trust that your work is important, your voice needs to be heard and you deserve to have the support, guidance & collaboration that will move you forward fast and let you avoid some of the pitfalls that others have discovered before you.
Not to mention --->>> Choosing to run your own business is a radical act of creativity! Creativity thrives in collaboration & connection. As Winnie The Pooh taught us so long ago..."It's much more friendly with two."
I promise it's ok to build your business and create the life you want the easy way. The fun way. The exciting, enriching & nourishing way...you don't have to go off alone in your head and do it all by yourself! In fact, when you remember you're doing what you love, allow yourself support and let every action you take in your business come from joy, fun and service you'll see amazing results SO MUCH FASTER.
I've learned to value my business and work as important in the world and become willing to invest my energy [remember: energy = time + money] in nurturing myself and my business with support, education & the hugely transformative power of mentorship. Being held in my highest light by others while I grow and evolve has transformed my income, impact and lifestyle in a huge way in only a couple years.
I have done this primarily through 1-1 coaching, group coaching, and masterminding so that I have focused strategic support AND an expansive collaborative space to share ideas, resources and create.
My experience investing in support and taking time to work ON my business instead of always working IN my business has been the biggest gamechanger in my having a sustainable, thriving business --->>>and the lifestyle I want it to support.
Despite outward appearances of tumolt and turmoil in the world, the time is ripe with healing and opportunity for expansion in business as well as spiritually & personally. Now is a time for you to nurture that deep connection with your own inner guide and super charge your presence, so you can share your vision, the transformation you bring and step forward and bring your unique vision and voice into the world in the biggest possible way.
And you really don't have to do it all by yourself. ​
I am always here if you want to reach out to me or my team at support@michellekopper.com to see how I can support you.
Whether it's me or another mentor, coach or guide I urge you not to go it alone. In fact, that's the long hard way to go...​We all need a sounding board, new ideas and encouragement. Having a mentor to grow our skillset & strategize, connecting with peers to discover new ideas & trends is essential to creating a sustainable, thriving business.
Your message and mission -- Your Voice -- is an essential part of creation. Your song needs to be sung. Your BIG IDEA is a good one...You and your vision are so much more than worthy of support!